Hello guys. Google has launched their next Android version
Android 'O'
on total solar eclipse day. There were lots of prediction held that 'O' will stand for Oatmeal cookie or Octopus but now its confirmed Android O will stand for
"Oreo"
.
Android Oreo
Still lots of android devices run on Android Lollipop (Sorry guys but you dont any have chance to taste Oreo 😀) . Only 8% devices got update to Android Nougat ( Guys you have chance to taste Oreo 👍). As Android market is not small, their are lot of Android devices which runs on different SoC's that makes difficult to provide updates.
Google has done many improvements in this version specially in the area of OS optimization and also in improving battery life. Google also introduced some new features that will surely improve users operating experience and will make work some little bit easier than previous version.
So here are some new features introduced in Android Oreo.
1) Picture-in-Picture (PiP) feature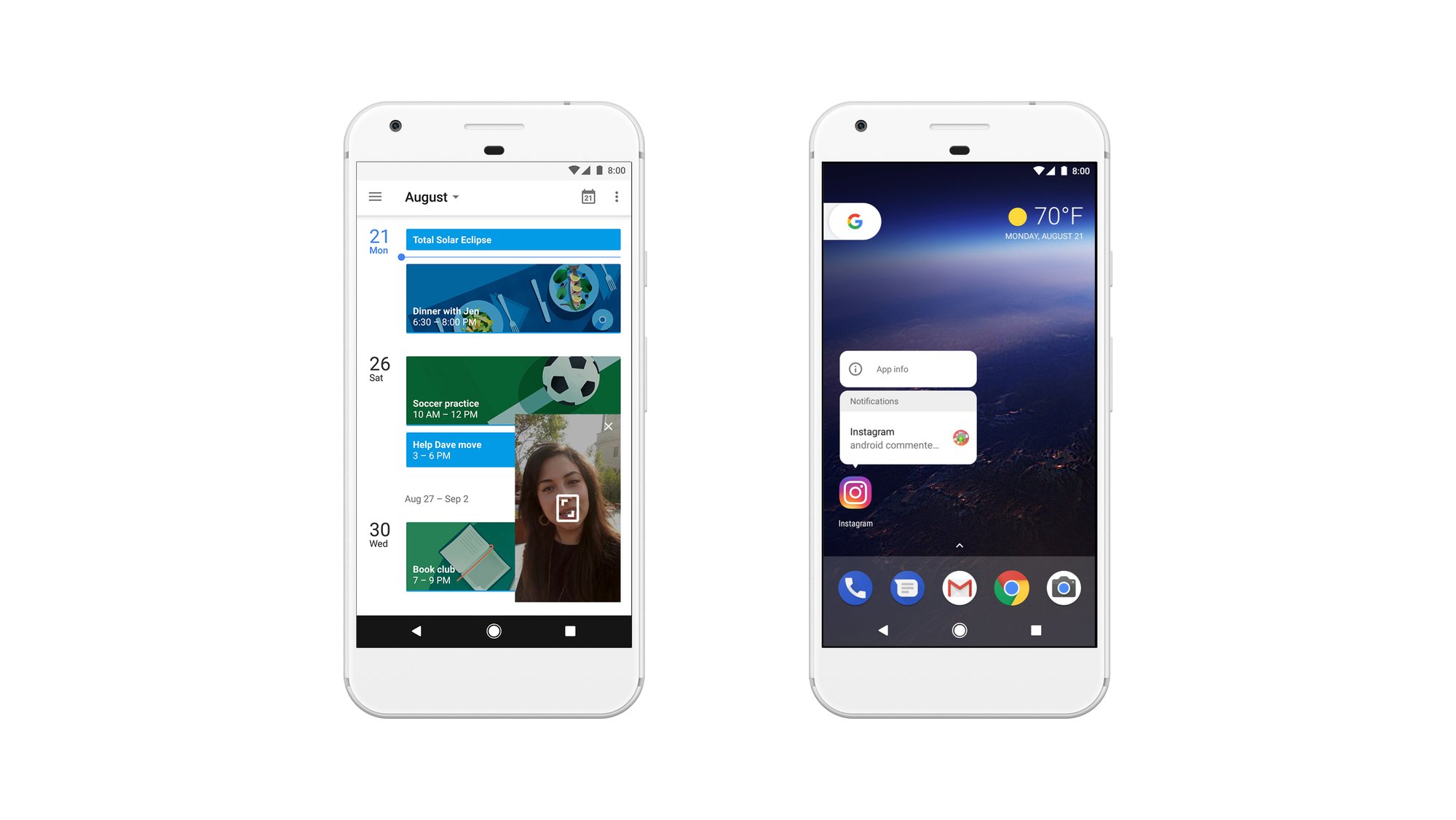 Android O Picture-in-Picture
This feature is available for IOS devices, Android also introduced this feature in this version of android. Its simply let you to watch YouTube videos or other streaming videos while you are working in other window. While watching YouTube videos just press home button,video will pop up in small window so you dont need to pause and come back again to watch videos. This feature will increase user experience of watching YouTube video.

2) Adaptive Notification Dots (Badges)
If you are using previous android version you can observe there is no any notification badges on apps in stock android so many time user opted to install 3rd party apps but in this version you will get a numberless notification badges with different colors for different app. This will surely increase stock Android user experience.
3) Background Limitations
Lot of apps consumes more battery as they run in background , previously we dont have any control over them but now android has added automatic background limits in the areas of implicit broadcast, background services and location updates. So this will help to improve battery life.
4) Notification control improved
In last android versions we had less option to control our notifications in notification panel. We had to long press it and options for blocking and show notification silently were displayed.
However in new version controlling power is user centric. User have to just slide the notification and new option will come where you can set snoozing time for that particular notification although previous option remains as it is.If you want to skip notification for some time you can do it.
5) More options for fingerprint gesture
Till now third party app were required if you wanted to set some gesture to your fingerprint sensor but there was some limitation too them but now android has launched accessibility services for fingerprint swipe gesture now third party apps can improve your fingerprint gesture experience as now you can set your own gesture.
6) Smart text selection
In previous version text selection meant to be just for copying and pasting. In this version word selection became way smarter than we thought. Now you can dial number if you have selected it, if you select address it will directly locate it on Google Maps, it will also detect phrases and so on.
7) Redesigned and some new Emoji
Android Emoji Revolution
Android has redesigned all of its previous Emoji and they are now more interactive, also they have added some more real life Emoji. New Emoji are rounder and they have avoided blob design in this version.
8)Notification for running background apps
Just think if you get direct information of which apps are running in background and draining your battery in your notification panel.... Well this is now implemented in Android O, So you can now see which apps are running in background in your notification panel.
9)Performance improvement
No doubt in Android O performance will be improved also battery life will also be improved as they have given more controls to developer to enhance and to optimize OS which will lead to increase in battery life and performance also.
A lot improvement has been done in this version of Android. More importance is given to user centric controls and OS optimization. Other than this lot of new features, changes and improvement is added like Auto-fill API (for this developer need to code itself to make it active), New system app icons, New icon shapes, improvement in quick setting and setting menu and so on.
Android also introduced Google Play Protect to keep your apps safe and secure.
Oreo is gonna sweet update but which mobiles are going to taste this sweet?... Well most of the old devices which are running on either Lollipop or Marshmallow version are having almost no chance of getting any update. Android updates are not like IOS updates which release to all devices. Android devices runs on different SoC's, so it becomes hard to provide updates to each android device.


Till now confirmed devices which getting this updates are:
All Google Pixel and Nexus devices
Nokia 3,5,6,8
OnePlus 3, 3T, 5
Coolpad Cool Play 6
HTC U11
Asus Zenfone 3 and 4 series
Samsung Galaxy S7, Galaxy S7 edge, Galaxy S8, Galaxy S8+, Galaxy Tab S3 and upcoming Galaxy Note 8
Still many vendors to update their list, as soon they do I will update. Android updates are really slow so if you are using old devices updates may not be arrive. If you are using custom ROMs then it may possile you to switch to Android O.